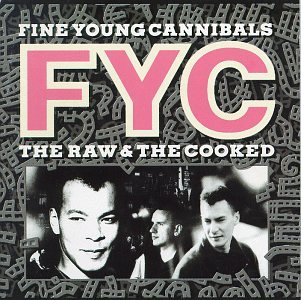 So, in my wanderings across the internet I came across the music video for the song "She Drives Me Crazy" by the Fine Young Cannibals, which I, frankly, hadn't heard before. So, I decided to check out the album that it came from, The Young and the Cooked, and give it a try. I was rather impressed with what I heard.
The Track List
She Drives Me Crazy
Good Thing
I'm Not The Man I Used To Be
I'm Not Satisfied
Tell Me What
Don't Look Back
It's Okay (It's Alright)
Don't Let It Get You Down
As Hard As It Is
Ever Fallen In Love
To be absolutely frank, there's nothing I hated about this album. This is one album where I can say, honestly, that I enjoyed just about every single song. The later songs on the album aren't quite as good as She Drives Me Crazy, Good Thing, and other earlier songs, but they're not bad. If anything, the worst you can say about them is that they're "fair". Unfortunately, they didn't record anything after this but, if you're going to go out, you might as well go out on a high note.