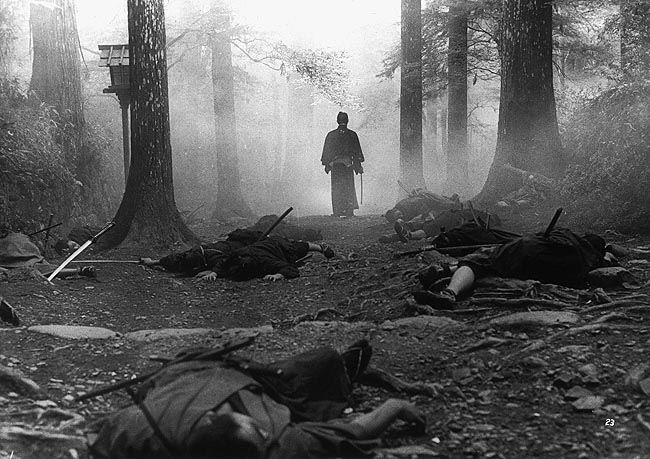 It's been a while since I put a film review together, for something outside of a genre film for Bureau42. However, what better place to get back into the swing of things than the 1960s jidaigeki film Sword of Doom.
The film stars Tatsuya Nakadai as samurai Ryunosuke Tsukue, a sociopathic-at-best samurai, who cares for nothing but the improvement of his skill. The film follows Tsukue over the course of two years, as his violent tendencies slowly get the better of him .
The script does an excellent job of making it perfectly clear that while Tsukue is certainly the main character of the film, he is not a protagonist. Literally, the first thing he does in the film is to kill a defenseless old man in cold blood, and he proceeds through the film with a sense of clinical, cold detachment similar to later anime and manga characters like Duke Togo of Golgo 13 and Ogami Ittō of Lone Wolf and Cub, which likely took a certain degree of inspiration from novel this film was based on.
However, the sense of detachment is where the similarities end. While Ittō and Togo are certainly remorseless, compassionless killers, their opponents are often even more vile creatures then they are, to keep the audience on their side. On the other hand, as the film progresses, Tsukue never improves as a person. By the end of the film, guilt and fear have come to get the better of him, but even then they are unleashed in a psychotic episode comparable, in terms of violence, with the climax of Scarface. All of this is executed wonderfully by the writers and the director, as we see Tsukue's sanity slip further, further and further.
The film is not without its faults. Originally intended as part of a trilogy, based on the absurdly long novel (about 1,533 chapters long) of the same approximate title as the film, several sub-plots are introduced that go just about nowhere. While they do intersect with the main plot in several points, they otherwise introduce what seem to be Chekov's guns that turn out to be little more than display pieces. These side plots are significant enough that dramatically trimming them down could easily cut the film down from its current 2 hour run-time to closer to 90 minutes. These side plots could have been resolved in a sequel – however, we didn't particularly get a sequel to this film.
All that said, the film is extremely well done, and a wonderful example of what this genre of cinema is capable of. If you consider yourself a fan of samurai films, you owe it to yourself to see this film.