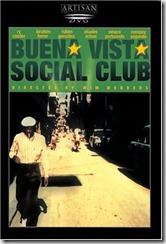 Concert films tend to follow a very specific formula: Band does stuff before performing, audience eagerly awaits performance, band performs, band and audience leave. Buena Vista Social Club follows that formula somewhat, but with some tweaks that makes it stand out.
The film follows American music producer Ry Cooder gathering a bunch of classic Cuban musicians together to record an album of popular Cuban songs from the 40s and 50s, of the son genre, which was generally unknown in the US outside of Cuban emigre communities. After that album more or less caught on fire, he set up a series of concerts in Holland and in Carnegie Hall, where the performers play before a fan base that's significantly larger then anything they'd played for before.
My knowledge of Cubano music was nonexistent before I saw this movie, so I came into this film in the same way that a lot of viewers would have – cold. Frankly, the music in the film was fantastic, from the opening song of "Cham Cham" to "Quizás, Quizás, Quizás" it is, as the saying goes, all killer, and no filler.
Bridging the performances and recording sessions are interviews with the performers, first in Cuba, and then later in New York. The contrast is dramatic. Cuba, while incredibly beautiful, is also very sparse. It doesn't have the same degree of activity that you see in more prosperous cities, and all the buildings have a certain degree of neglect to them. Considering that very few of the performers had ever left Cuba before, this makes for a dramatic contrast when the performers come to New York for the first time. While the performers certainly aren't depicted as quaint, backwards or stupid, their reactions to New York are extremely dramatic.
Sadly, most of the older performers in this film are no longer with us. Vocalist Ibrahim Farrer passed away in 2005, pianist Ruben Gonzalez and vocalist & guitarist Compay Segundo died in 2003. Still, this film stands as a monument to the quality of son music.