The last book in the Peter Grant series of Urban Fantasy police procedurals wrapped up the end of the "Faceless Man" Arc, with the recurring antagonist of that series being taken down, while one of the members of Peter's supporting cast who had turned to the Dark Side was now on the lam. In the wake of this, author Ben Aaronovitch has decided to, basically, explore a different chunk of this world with the novella The October Man, which moves the plot from the UK to Germany.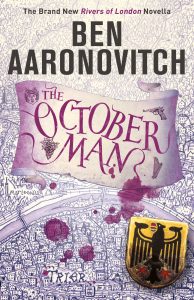 This book moves the action completely away from Grant, to a new character, Tobias Winter of the KDA, the German counterpart of The Folly. Readers of the earlier books will remember these earlier points about the setting:
The Demimonde (the world of Magical Beings) has very long memories.
The Nazis were involved with some absolutely horrific magical shit during World War II.
And from there it's probably not hard to draw a line between the two things and to draw a reasonable conclusion that German Demimonde is much less trusting of the KDA than the UK Demimonde is of The Folly – assuming outright that the KDA's default intent for any actions with the Demimonde is extermination.
The plot itself is a murder mystery set in the town of Trier and, as this is a novella, while the story has it's complexities, it's not as heavily involved as the plot of even Midnight Riot does. That said, this does leave the book doing something of a juggling act between telling it's mystery story and setting up the post-WWII magical community of Germany (both separated and unified). It mostly succeeds in that "May I have some more" sense – nothing is truely explained in full, but my appetite to learn more about how Germany has shaped up in this universe has definitely been whetted.
The book also does a good enough job here that I might almost consider it to be a good introduction to the universe of the Rivers series to people who are new – but I'm steeped enough in the series now that I no longer really trust my judgment on that point.
The October Man is available from Amazon in Print, Kindle, and Audiobook editions. Buying anything through those links helps to support the site.