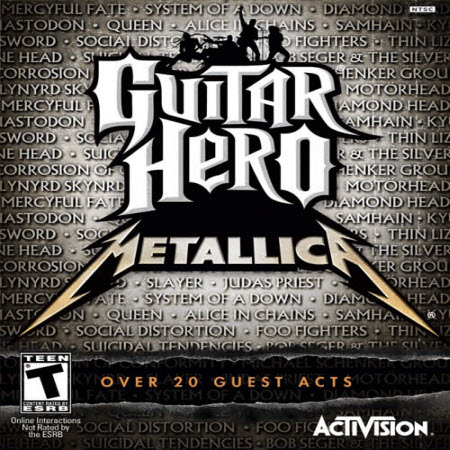 A while back, I went out on a limb and said that Guitar Hero: Aerosmith was superior to Guitar Hero III. I've now had an opportunity to play the second band focused Guitar Hero game, and while I enjoyed it, it encountered some of the same problems that Guitar Hero III had.
For starters, the game isn't balanced well. On Normal, I found myself running into serious problems with the first two tracks of the game, with the game. Even when I switched down to the Easy difficulty setting, I still ran into some problems with nearly failing out of tracks. To be fair, when playing metal songs on Guitar, I'm expecting some difficulty – but on the other hand, I didn't have nearly as many problems dealing with metal songs on Rock Band (like We Are The Road Crew by Motorhead for instance). Additionally, the Career mode in the game doesn't have the documentary aspect to it that Guitar Hero: Aerosmith's career mode did. Instead of following Metallica's career, it follows the player's Metallica cover band, as they attempt to become Metallica's opening act. To be fair, Metallica's history is particularly tragic, and to do the band's performance history justice, you'd basically have to try and digitally re-create Cliff Burton's performance style from archival footage – something that could potentially be painful for members of Metallica.
However, that's my only real complaint with it. The song selection is solid, with the majority of the songs being Metallica, with the songs by other artists having a clear connection with Metallica – whether the bassists for those bands auditioned to replace Jason Newsted alongside current bassist Robert Trujillo, or the songs were covered by Metallica at some point in their career. Everything fits in nicely with Metallica's history as a band. Metallica's current lineup came in for performance capture of every Metallica song in the game. While this means that Jason Newsted was left out of the game, I'm not as put out by it as I am with the omission of Sammy Hagar in Guitar Hero: Van Halen – the change in bassists throughout Metallica's history hasn't effected the band's sound nearly as much as the change from David Lee Roth to Sammy Hagar affected Van Halen (with the exception of Cliff Burton's death).
All in all, though, I consider this to be a solid game, on par with Guitar Hero III, but with a considerably stronger track lineup, along with the inclusion of vocals and drums – making this the total package for metalheads.